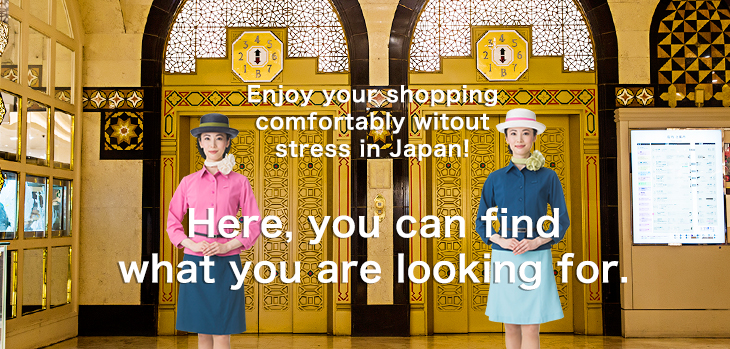 Event Calendar
7 kaisaikaijo
Wednesday, May 22 → 29th Wednesday
◎Summer Wacoal big festival
◎Ladies' wear spot sale

※Closed at 5:00 p.m. on the last day

Friday, May 24 → 29th Wednesday
Beautiful spirit station

※Closed at 5:00 p.m. on the last day

Tuesday, May 28 → 29th Wednesday
<Nomura tailor house> hagireseru

※Closed at 5:00 p.m. on the last day

Friday, May 31 → Monday, June 3
Kids wrapper and miscellaneous goods bazaar

※Closed at 5:00 p.m. on the last day
The sixth-floor event hall
Wednesday, May 22 → 27th Monday
Glasses Festival

※Closed at 5:00 p.m. on the last day

Wednesday, May 29 → Monday, June 3
◎<Simmons> premium Beds special sale
◎Silk Road carpet exhibition [display, spot sale]

※Closed at 5:00 p.m. on the last day
The sixth-floor Art Gallery
| | | |
| --- | --- | --- |
| Wednesday, May 15 → 21st Tuesday | Foreign film feature broad daylight society best exhibition | |
| Wednesday, May 22 → 28th Tuesday | Yoshihiro Kamata art exhibition | |
| Wednesday, May 29 → Tuesday, June 4 | Terao Sue elephant tea ceramics exhibition | |
The sixth-floor art salon ESPACE KYOTO
| | | |
| --- | --- | --- |
| Wednesday, May 15 → 21st Tuesday | Foreign film feature broad daylight society best exhibition | |
| Wednesday, May 22 → 28th Tuesday | Koji Noyori exhibition | |
| Wednesday, May 29 → Tuesday, June 4 | Seiji Ikeda foreign film exhibition | |
Basement [gochi Para umaimon toko]
Wednesday, May 15 → 21st Tuesday
Hokkaido tasting ... of ... early summer
<the sushi dragon matter> <when become oku> <shop of tree> <sone food> <mountain village fisheries> <Kagawa that is Roadside Station> <Sato Suisan>
Wednesday, May 22 → 28th Tuesday
<board joy shop> <ham studio Giraud> <fisheries processing in Seto> <funny Gomi eight> <squid eight> <seaweed cafe>
Wednesday, May 29 → Tuesday, June 4
<Article 9 shop> <dining M> <dirt tiger> <Yakushido> <Miyano peanut> <village former store> <die Lew foods>

※We may change title, contents of event without notice. Available only while supplies last. We thank you for your understanding.
Basement [Nishi-iru Exit special]
| | | |
| --- | --- | --- |
| Monday, May 13 → 21st Tuesday | <native of Hokkaido shop> | |
| Wednesday, May 22 → 28th Tuesday | <NOIX> <Okamura store> <hayarimioku> | |
| Wednesday, May 29 → Tuesday, June 4 | <Uji Surugaya> <bowl Grand Prix> | |
| | | ※We may change title, contents of event without notice. Available only while supplies last. We thank you for your understanding. |
Basement [gochi Para amaimon tokohigashi]
| | | |
| --- | --- | --- |
| Wednesday, May 15 → 21st Tuesday | <Kobe Cherbourg> | |
| Wednesday, May 22 → 28th Tuesday | <marukitapuryusu> | |
| Wednesday, May 29 → Tuesday, June 4 | <CRICKET> | |
| | | ※We may change title, contents of event without notice. Available only while supplies last. We thank you for your understanding. |
Basement [gochi Para amaimon tokosei]
| | | |
| --- | --- | --- |
| Wednesday, May 15 → 21st Tuesday | <flower garden> <Takasago hail> | |
| Wednesday, May 22 → 28th Tuesday | <tree> <IZUMIYA> | |
| Wednesday, May 29 → Tuesday, June 4 | <kataguruma> <five-based Uiro> | |
| | | ※We may change title, contents of event without notice. Available only while supplies last. We thank you for your understanding. |