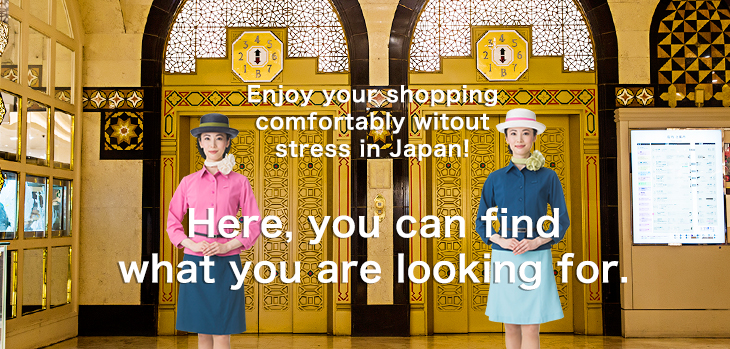 Service Guide
For Our Foreign Visitors
Special Shopping Coupon: 5% OFF
Items excluded from this discount include bargain items, foods, and some choice brands.
・Cash, Union Pay Cards, and credit cards are all accepted.
・Customers will receive a 5% OFF coupon upon presenting their passports at the locations indicated below.
・However,this only is for customers who have been in Japan for less than 6 month.
・Only customer of the foreign family register is available. Thank you for your understanding beforehand.
●7F / Foreign Customer Counter
Free Wi-Fi
Free Wi-Fi is available free to customers who present their passports at the designated store locations.
●Information desk, cosmetics section in the first-floor / shop, / choice fashion sales floor on the second floor, the sixth floor / clock salon, the seventh floor / foreign countries customer counter Laox
Currency Exchange (to JPY)
We handle 18 different currencies, including the U.S. Dollar and Chinese Gen.
●7F / Foreign Currency Exchange Corner at the Foreign Customer Counter
Chinese Interpreters
Our interpreting staff will be available to aid any of our visitors from China with their shopping.
●7F / Foreign Customer Counter
Accepted Credit Cards
Credit Cards
We accept a range of credit cards, including VISA, MASTERCARD, JCB and American Express. (Please contact our staff for more details)
UNION PAY Card
Your Union Pay Card can be used in each sales department. (Some departments are excluded)
Export Tax Exemption Procedure
Customers can undergo export tax-exemption procedures for all items purchased on that day at our store.
When finished shopping, please bring your sales receipt(s) and all items purchased to the tax exemption counter. (Some stores/items excluded)
※At our store, we withhold 1.1% of all exempted tax as a tax-exemption fee, whereas customers will be refunded the remaining 6.9%. We ask for your understanding on this matter.
●7F / Foreign Customer Counter