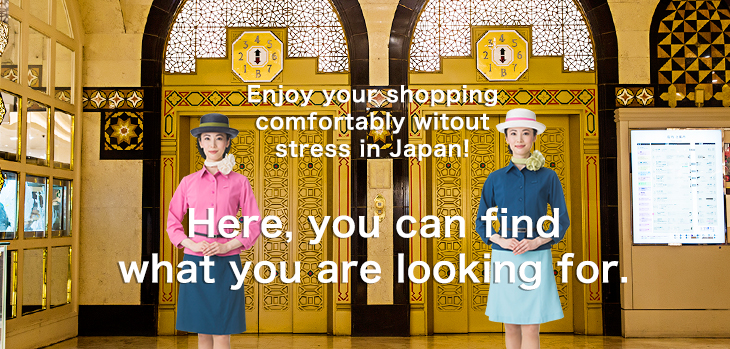 Event calendar
7 kaisaikaijo
| | | |
| --- | --- | --- |
| Wednesday, June 27 → Tuesday, July 17 | Ladies' wear spot sale | ※We are closed closing at 5:00 p.m. on the last day at 4:00 p.m. on Tuesday on Tuesday, July 3, 10th |
| Wednesday, July 11 → 17th Tuesday | Suit city of man | ※We are closed at 5:00 p.m. on the last day |
| Thursday, July 19 → 30th Monday | Summer living Festival | ※We are closed at 5:00 p.m. on the last day |
The sixth-floor event hall
| | | |
| --- | --- | --- |
| Wednesday, June 27 → Monday, July 23 | yukatagyararii | ※We are closed at 5:00 p.m. on the last day |
| Wednesday, July 25 → 30th Monday | Churchill society Kyoto exhibition | ※We are closed at 4:00 p.m. on the last day |
Art art gallery on the sixth floor
| | | |
| --- | --- | --- |
| Wednesday, July 11 → 17th Tuesday | ... infinity embrace - celebration of 70 years old modern calligrapher Kohei Okamoto exhibition | |
| Wednesday, July 18 → 24th Tuesday | Used secondhand articles bazaar of Kyoto | |
| Wednesday, July 25 → 31st Tuesday | Satoru Horii foreign film exhibition | |
The sixth-floor art salon ESPACE KYOTO
| | | |
| --- | --- | --- |
| Wednesday, July 11 → 17th Tuesday | Amount of screen, sum sale | |
| Wednesday, July 18 → 24th Tuesday | Kutani chinaware Takayuki Hasegawa ceramic works exhibition | |
| Wednesday, July 25 → 31st Tuesday | Toshio Yamamoto Japanese painting exhibition | |
Basement [gochi Para umaimon toko]
Wednesday, July 11 → 17th Tuesday 
Taste Festival of Gion festival Daimaru summer
<person of saiki> <Fukahori> <take sanukichi> <Takakura-ya> <five crossroads of kelp> <do>




Wednesday, July 18 → 24th Tuesday
Summer stamina fair
<Tono store> <the corner British> <Kobayashi of meat> <fisheries in Seto> <Shimizu foods> <intricate design chicken> <chu*shi> <Amasa rada>

◎<chu*shi> This until 20th Friday
◎<Amasa rada> from 21st Saturday to 24th Tuesday. ※We sell in basement [Nishi-iru Exit special] until Wednesday on 18th from Tuesday on 17th.


Wednesday, July 25 → 31st Tuesday
gochi Para stamina & Hel sea fair
<Nomura Tsukudani> <Ryukyu cancer> <dining M hiba arborvitae> <Fukuyama product> <inter-cross> <the windblown snow main office> <MIO BRANDs>




※We may change title, contents of event without notice. Forgive on out of stock.
Basement [Nishi-iru Exit special]
| | | |
| --- | --- | --- |
| Wednesday, July 4 → 18th Wednesday | <Article 3 Wakasa-ya> | |
| Saturday, July 14, 15th Sunday, 17th Tuesday, 18th Wednesday | <Amasa rada> | ◎We sell in basement [gochi Para umaimon toko] until Tuesday on 24th from Saturday on 21st. |
| Thursday, July 19 → 20th Friday | Ox feature on Doyo | |
| Saturday, July 21 → 24th Tuesday | <giraffe temple> <Zao side> | |
| Wednesday, July 25 → 31st Tuesday | <Chigusa product> <Hirota> | |
| Wednesday, July 25 → Tuesday, August 7 | <Tokyo milk cheese factory> | |
| Wednesday, August 1 → 7th Tuesday | <organic incense bunch> | |
| | | ※We may change title, contents of event without notice. Forgive on out of stock. |
Basement [gochi Para amaimon tokohigashi]
| | | |
| --- | --- | --- |
| Monday, July 9 → 17th Tuesday | <Kogetsu> | |
| Wednesday, July 11 → 17th Tuesday | <NISHIKIEN> | |
| Wednesday, July 18 → 24th Tuesday | <Kobe konditorai> <Berger rekorute> | |
| Wednesday, July 25 → 31st Tuesday | <Enfant> <Berger rekorute> | |
| Wednesday, August 29 → Tuesday, September 4 | <Delicious box> <Persian buttercups> | |
| | | ※We may change title, contents of event without notice. Forgive on out of stock. |
Basement [gochi Para amaimon tokosei]
| | | |
| --- | --- | --- |
| Wednesday, July 11 → 17th Tuesday | <Shu Ho> <bamboo road hermitage> | |
| Wednesday, July 18 → 24th Tuesday | <Higashiyama tea room> <green Fujiei> | |
| Wednesday, July 25 → 31st Tuesday | <Damia> <Bunnosuke Chaya> | |
| | | ※We may change title, contents of event without notice. Forgive on out of stock. |